Ever wondered why – no matter how many clothes you own – it never feels like you could just "mix and match" them? Well, while there's a bit more to it than this (we'll save them for future posts), one of the main reasons is probably because you don't have a wardrobe color palette. 
Sounds fancy, right? But we swear: a wardrobe color palette is for everyone – not something reserved for fashion bloggers, runway collections and store windows.
Having a color palette in your wardrobe creates cohesion, making sure your pieces complement each other and therefore giving you the chance to mix and match rather than being stuck with those same 3 outfits you wear on rotation. (Don't deny it — we've all been there!)
The even better news: we're going to simplify the process of creating a color palette for your wardrobe or capsule. (Because if it's too complicated, you're not even going to do it – let alone USE it!)
First thing's first: if you don't have your free The 'drobe account, download the mobile version here or use the desktop version here so you can use it to design your palette as we go ✨
The simple way to create a wardrobe color palette:
Step 1: Warm or cool tones?
Before we get into the nitty gritty, it's important to decide whether you're going with warm or cool tones because if your palette is a mix of both, it won't give you the desired effect (warm need to go with warm, cool with cool). 
Warm tones are the earthy ones that have yellow undertones (browns, maroon, oranges, peach, khaki green, yellow, ivory etc) whereas cool tones have blue undertones (cherry red, teal, violet, pinks, blues, pure white, pure black)… you get the idea.
See a couple of examples below (Fall = warm, Winter = cool) 👇🏼
Not sure which is best? Start with what you wear the most and ask the following questions:
🎨 Which colors make me look the healthiest?
🎨 Which colors get me the most compliments?
🎨 If I could only wear one color for the rest of my life, which would I choose?
🎨 Which colors make me look tired?
🎨 Which colors make my eye color pop?
🎨 Do I suit yellow gold or silver jewellery better?
Hopefully you were able to narrow it down! Now we get to the fun part…
Step 2: Choose your neutral colors
Neutrals are going to work as the base for your outfits. Often they'll show up in your bottoms or dresses, but also work as outerwear. 
Your neutrals are so important as if they're chosen right, they give you the freedom to play around with your other colors without feeling like you always need to wear one particular top with one particular bottom (boring!)
Common neutrals are black, white, navy, grey and khaki green… but denim is also a neutral, so if you live in jeans, don't despair.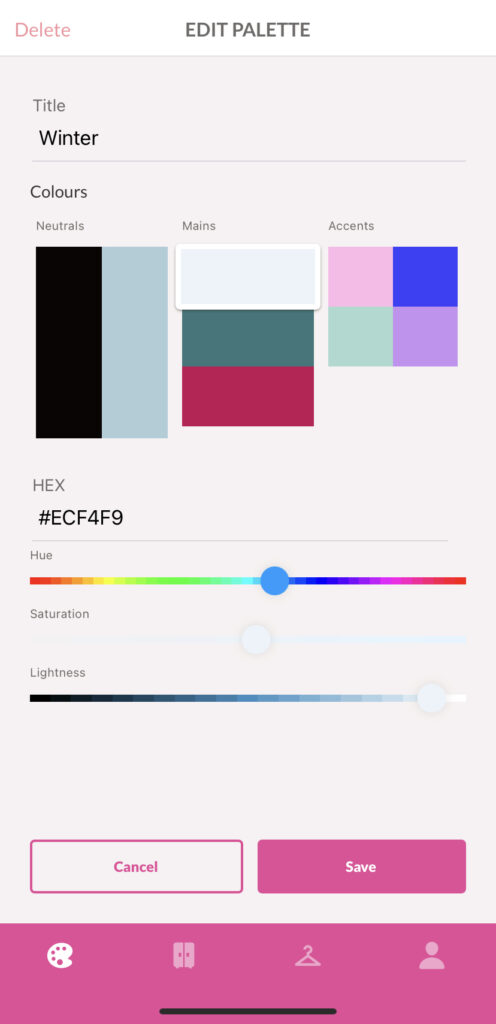 Step 3: Choose your main colors
Your main colors are the ones that attract the most attention and will often be the ones closest to your face, so it's important these are colors that really flatter your skin tone but it can also be fun to choose colors that make your eyes really pop or hair color stand out. 
Take a look at your favourite tops and dresses right now – are you noticing any repeating colors? 
Or how about that one piece you always wear if you want to feel confident? 
These are good clues that those colors should be chosen as mains!
Step 4: Choose your accent colors
Now things get REALLY fun. Your accent colors are those pops of color that you pull in through accessories or the occasional statement piece like a pencil skirt or blazer. 
They're the perfect way to pull in colors you adore but that just don't seem to flatter your skin tone as they'll rarely sit right next to your face. (That said – you do you. If you want to wear mains that aren't your "ideal" flattering tones but make you feel awesome, go for it!)
Technically you can have as many accent colors as you want, but putting a limit on them helps you to make sure you don't end up hoarding accessories that never get worn. 
Remember, even though they're just an accent, they should work with your other colors, not against them or the look could become distracting – taking the attention away from your lovely face. We don't want that!
Step 5: Give your wardrobe color palette a spin!
Now your wardrobe isn't going to magically transform before your eyes – there's still some work to be done. First, by testing the palette out to make sure it's functional and something you want to stick with for awhile (no, you don't have to commit to this for life, but if you want it to help you wear more and shop less, you need to at least give it a season!)
You can test your palette by using The 'drobe app to photograph all the items that fit your new color guidelines and then building outfits from them. This means you can just swipe through your options each day and choose from your pre-created outfits rather than standing in front of your wardrobe for 20 minutes at a time 🙌🏽
If you're feeling particularly excited about making the most of your wardrobe, you may want to do a capsule challenge which'll force you to get extra creative and wear previous neglected items.
Don't be scared – we're not suggesting you throw out 90% of what you own. You can create a temporary capsule wardrobe that'll give you a taste without decluttering regrets 😉
Step 6: Start having more fun with your wardrobe!
Seriously. Clothes are actually meant to be FUN. But because we over-shop, under-wear (you know what we mean!) – we start to feel like our wardrobes are a burden rather than a gift.
Whether or not your color palette experiment is successful, try and enjoy the process. Experiment, get curious, pay more attention to what makes you feel and what makes you feel gross or uncomfortable.
It will get easier as you go, and before you know it, you'll be making better use of your wardrobe, expressing your personality through your outfits, and maybe even feeling a bit more confident when you get dressed each day!
We hope you found this article helpful! While you're here...
Have you checked out part 1 of this series: "How to be ruthless when decluttering your clothes?"
If you're in desperate need of a wardrobe downsize, we'll walk you through the entire process so it's as pain-free as possible (and you know exactly what clothing to keep and what to get rid of so there's no decluttering regret later on!